Just wanted to show off my work on this insane fee calculator. It has roughly 48 API call gambits to handle the complex nature of the fees and percentages. Many, many, of the connection shown below are conditional jump logic filtering everything from MSRP on a vehicle and vehicle type/year to counties and specialty fees triggered in specific instances.
To handle IE's issue with rounding uvals, I built extra columns and rows in a google sheet (which I have to refer to for depreciation percentages based on vehicle age), and it pulls those extra data points in my GET API call to the sheet. Then I reference that call in my calculation APIs instead of a uval.
There are some rounding issues causing a variance of $.99 to .01 or a repeating decimal to display instead of currency format that I am still working on, but overall this thing is massive while still being quick and easy to the end user. The power of this calculator as a user driven tool is off the charts!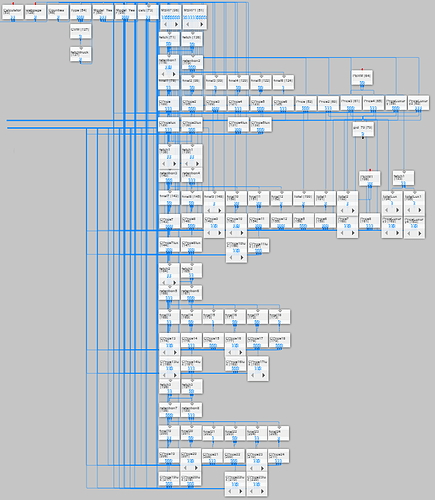 EDIT: Do not select the registration renewal option at the beginning, this only hands off the user to an online app to renew registration of existing vehicles in the Montana system. For checking out this tool, you must select "Continue".
Give it a try at https://mvd.hellotars.com/conv/r1Qym2/?_startgid=53
Note: Just enter any value on MSRP. If you go above $150,000, a specialty fee is triggered leading to a hefty fee added to the total (I'm cancelling my order for a Ferrari as we speak

).
Let me know what you think!